DPCon 2005 DPCon 2005 Summary We held DPCon at Atlantis again this year, but at their new location, now merged with Duelers. They had an all-nighter going on that night, so we were able to get lots of people playing. Calrathan, who is interning at EA now, was able to get a handful of games for prizes in addition to the shirts, trophies, and other awards we had.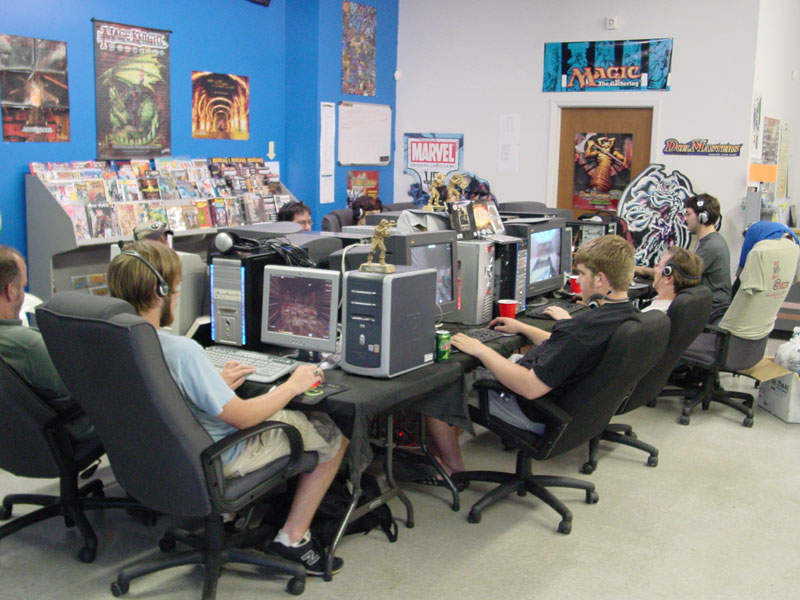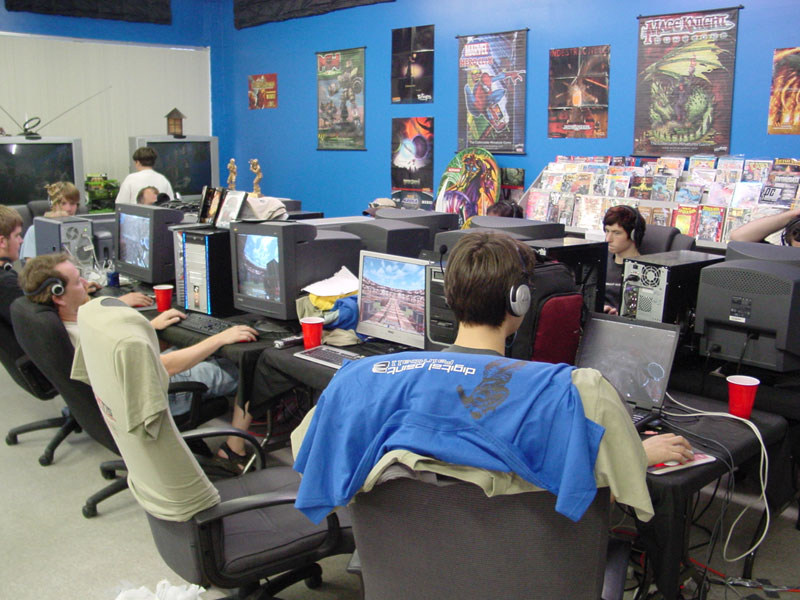 There were more computers in the back room, but I didn't get any shots of those. I really should have taken more pictures this year, but oh well. We need a designated photographer next year. :) Deathmatch Tournament Our first tournament of the evening. It spanned two maps, pb2dm1 and halfpipe. DaPainta took home the trophy yet again, for the second year in a row, despite computer problems and having to reboot a couple of times.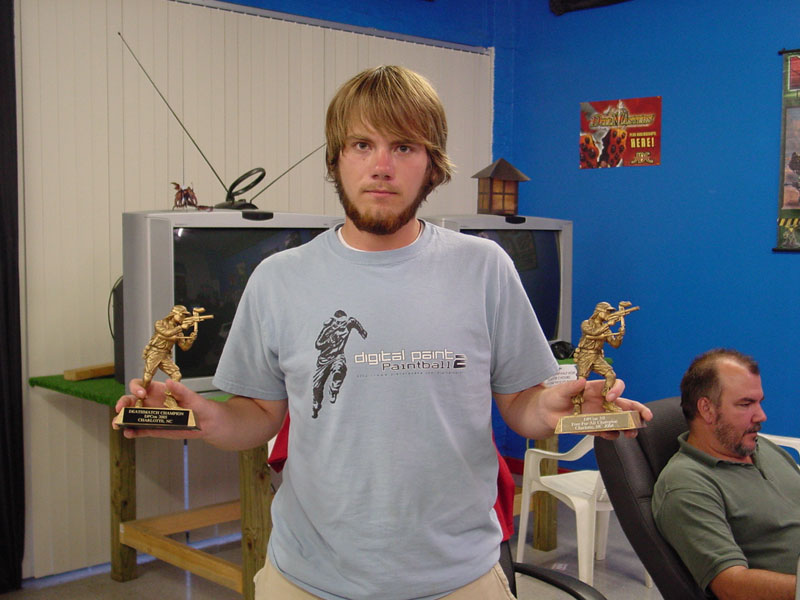 New Game Mode: Pong!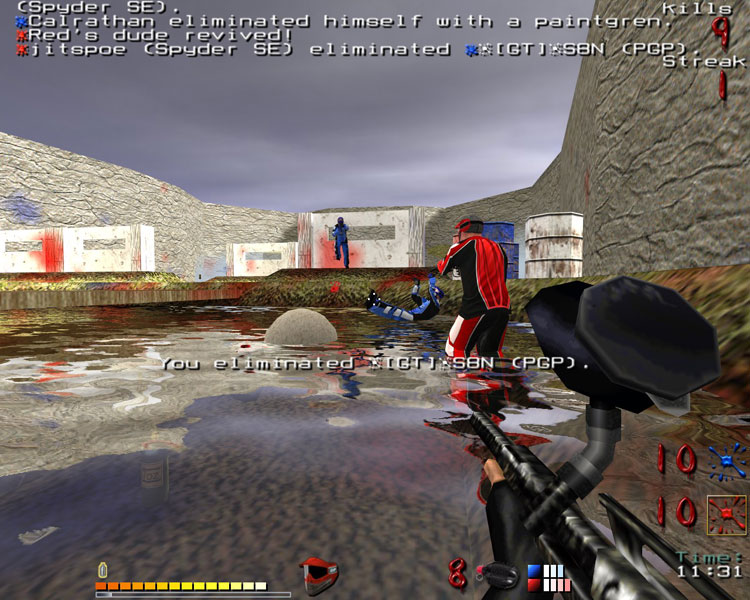 The new game mode was a real kick!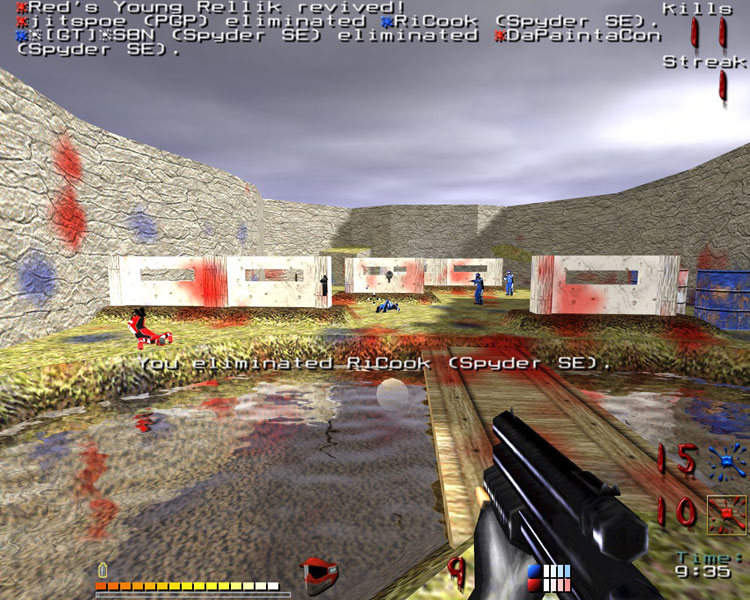 Everyone was having a ball...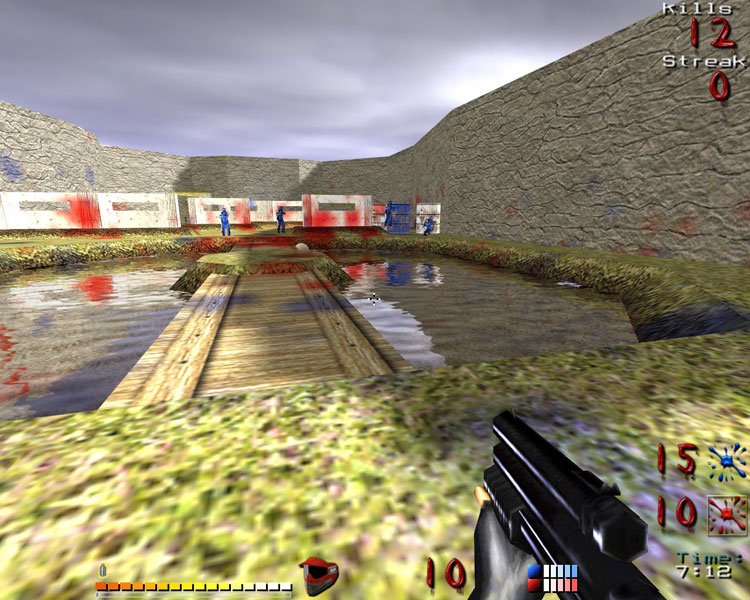 ... until the ball got stuck. This is why it's good to have on-site programmers who can throw in a quick fix to keep the game moving!

For those of you who are curious, pong is a lot like soccer... only with guns. You have to kick/shoot/bounce the ball into the other team's base in order to score points. Just be careful not to knock it into your own! We didn't have time to make any pong maps (we were actually up until 7:00am the night/morning before DPCon trying to work out the game mode itself), so we had to make do with modifying the entities of existing maps.

One of the better maps was ksplat1. It took 13 minutes before the first team finally scored. Somebody would get the ball within inches of the base only to be shot down, then the other team would move up and it would happen again, on the other side. When somebody finally scored, you can probably imagine the resulting cheers. Well, half the people were cheering anyway.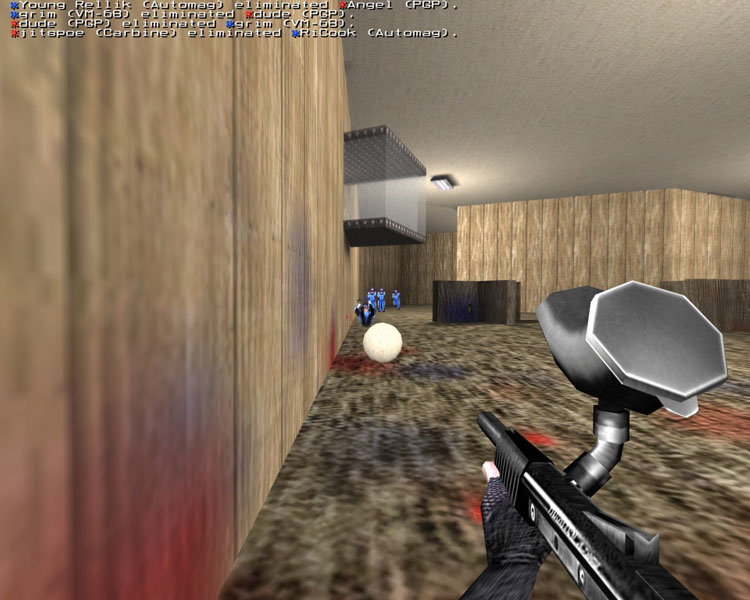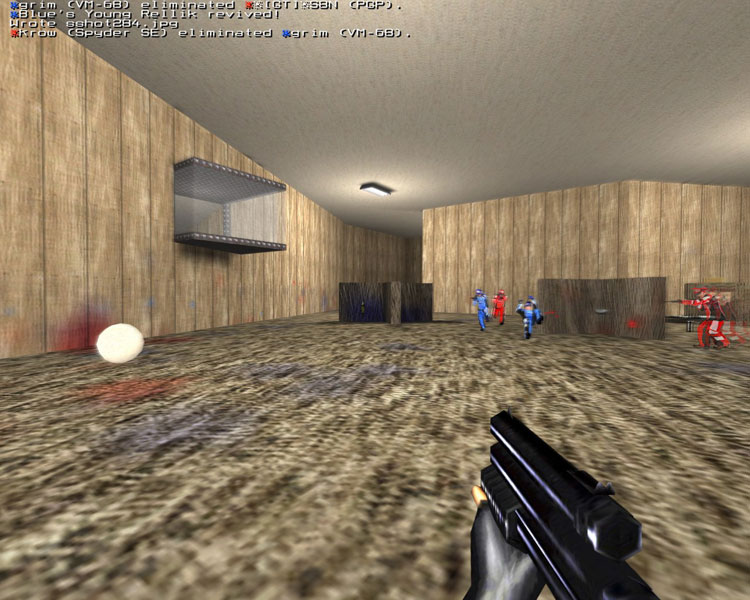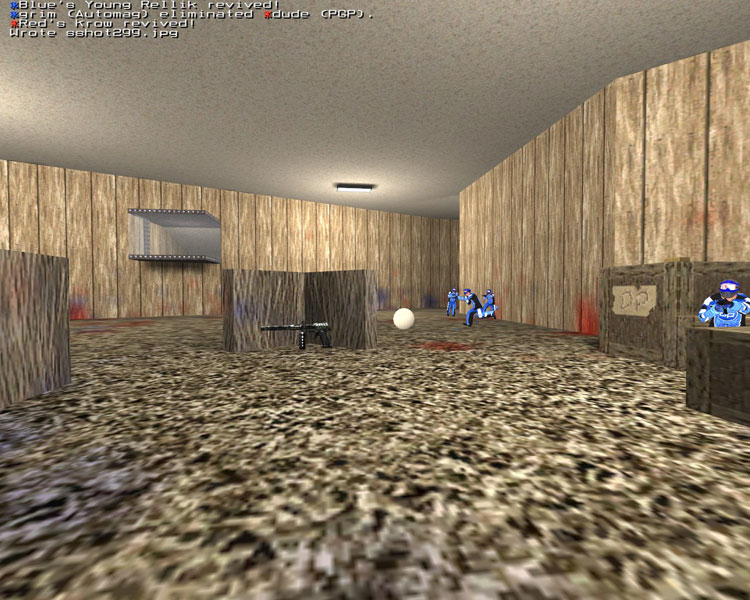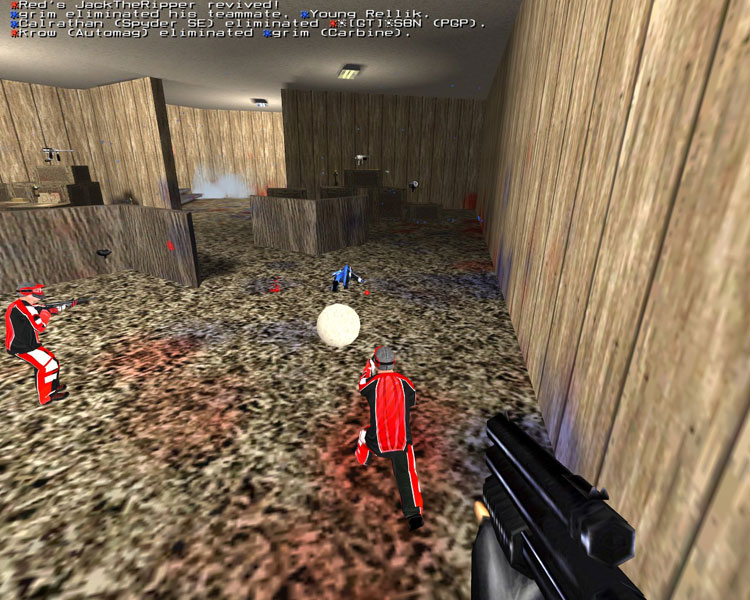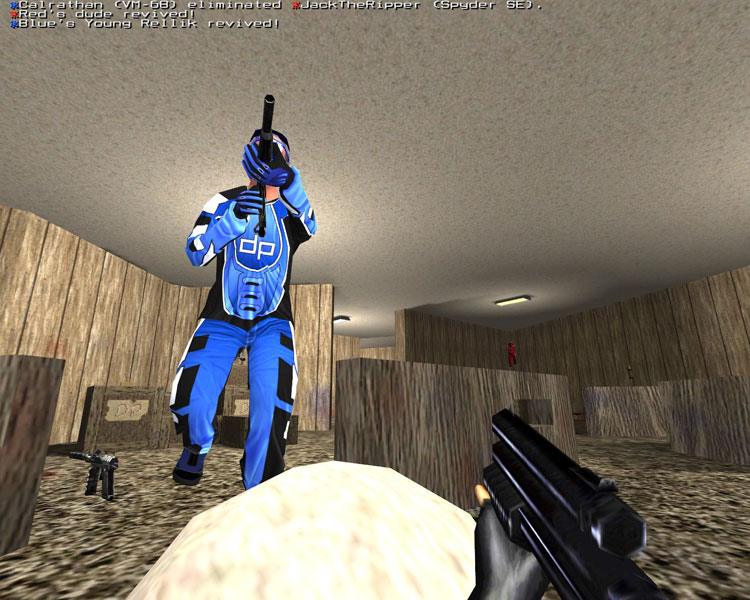 I've included a demo from a couple of maps so you can see the chaos for yourself. Extract these files into paintball2\pball\demos, then load up paintball2 and go to play / play recorded demo. The ball model will be missing until build 15 or 16 is released, but you'll be able to see what's going on: dpcon2005_pong.zip 2vs2 Tournament This was one of the best tournaments we've run to date. We tried to pair up the lesser experienced players with the more experienced players like we did last year. Battle and skylit were the primary maps, alternating each match, with midnight being the final match map. I forgot to get a photo of the winners, but DaPainta (see the DM champion photo) and RiCook (see the bag bag photo below) took home a couple cool EA games as prizes: Battlefield 2 and Medal of Honor.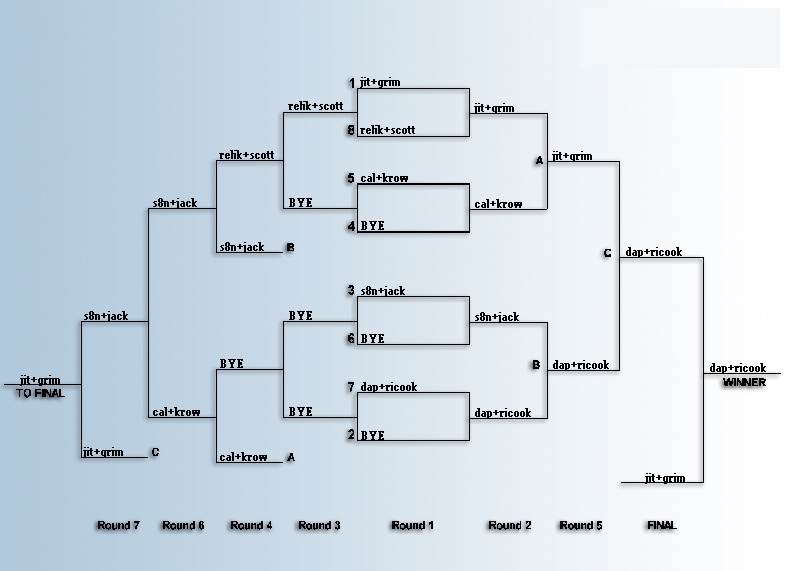 I did save the tournament results, though. It was a close match, and we ended up going into overtime on midnight for the final match. 1vs1vs1vs1 Tournament I've come to the conclusion after this tournament that we need some better 4-team maps. I think we also need to tweak the 4-team game rules a little. It was still fun, though. Hopefully we'll get some better maps put together for next year. We played winter1 and mirage. The top two teams from each match moved on until the final 1v1v1v1 match, where the winner took all. Congrats to Calrathan for that last-second lead and win.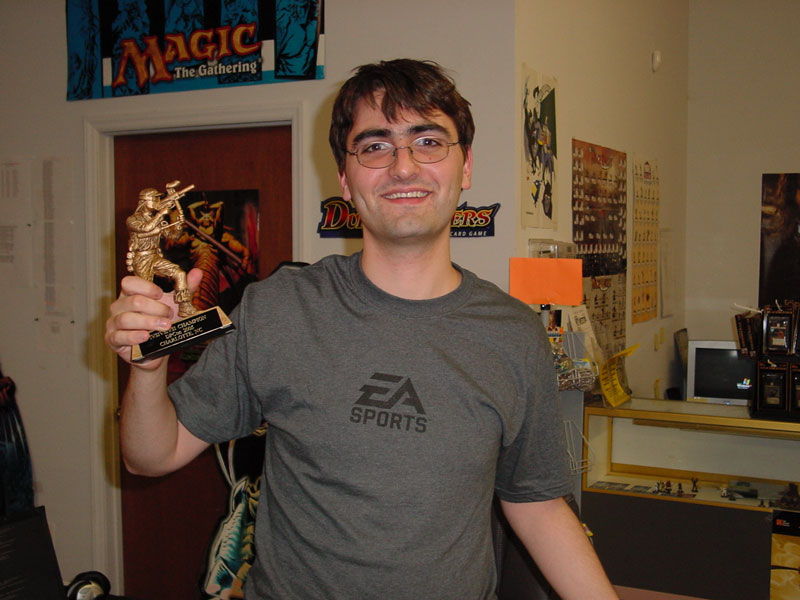 The Bag Bag The bag bag is a silly new tradition started at last year's DPCon. How many plastic bags can be fit in a plastic bag? Take a look at the picture and see if you can guess.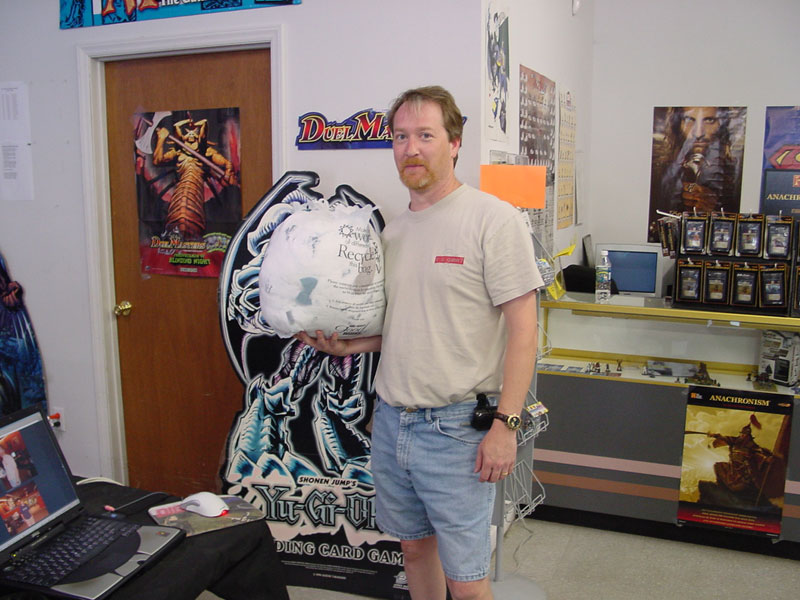 The bag of bags this year was a lot bigger than last year. If you look closely at the laptop screen, you can see the photograph of last year's bag bag. I want to say there were around 70 bags last year, but the exact count was lost and nobody remembers. This year there were 238 bags. Here's what they looked like before they were all shoved into a little grocery bag: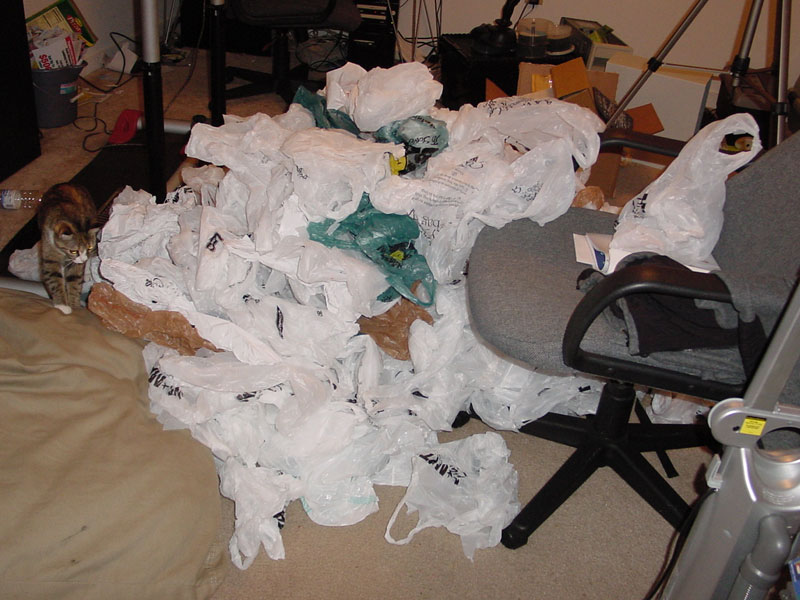 And people wondered why I didn't count them before packing! Besides, they made me guess as well. I had the closest guess with 231, which was 7 off, and we ended up having a 3-way tie for second place. Three people were off by 13. How? Well, one person was 13 too high, another was 13 too low, and the third wasn't paying attention and put down the same guess as somebody else.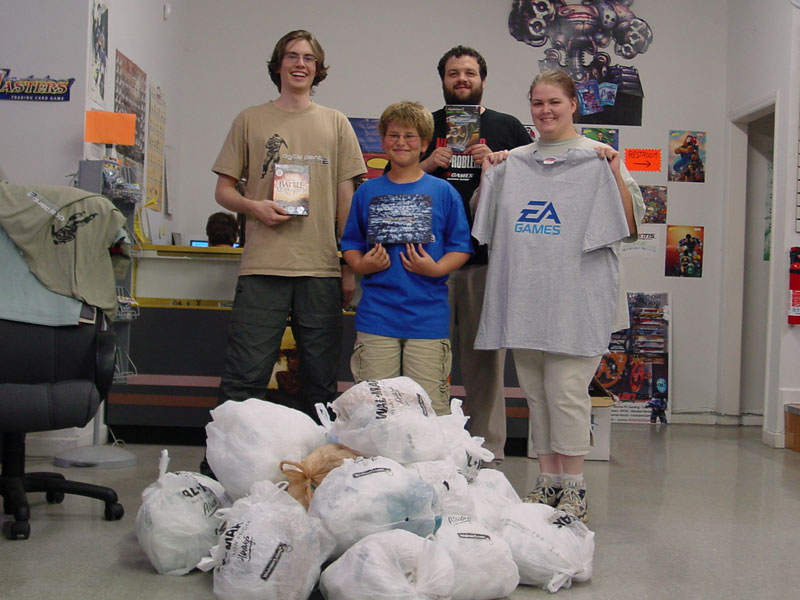 No problem, though. We had plenty of prizes to hand out: Battle for Middle Earth, NFSU2, the last Digital Paint mouse pad, and an EA Games shirt.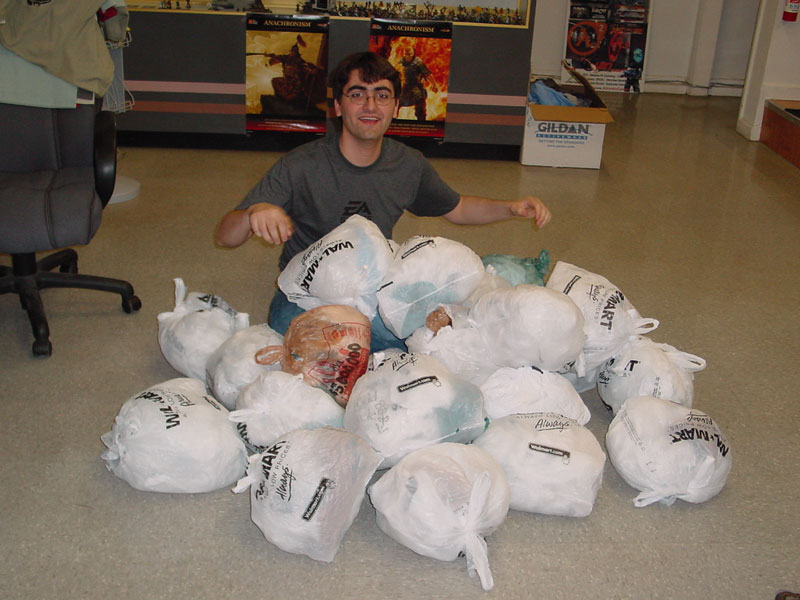 Calrathan was perfectly content playing in the resulting bag pile. No need to wait for autumn!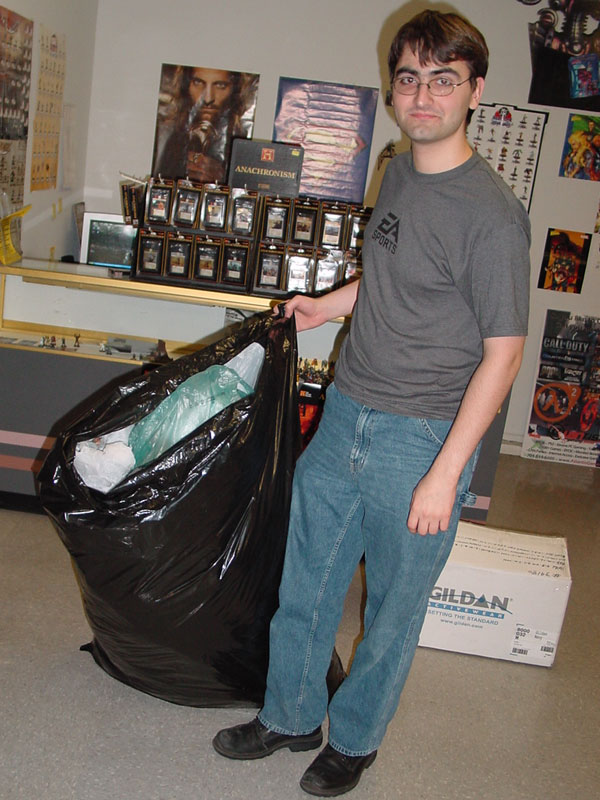 Afterward we had to bag the bag bag bags in a big enough bag that bag bag bags could all be bagged. After which we bragged that the big bag of bag bag bags was barely big enough to bag all the bag bag bags! I think next year's bag bag is going to require a bigger bag! Misc. Stuff One thing nice about holding DPCon at a comic book/card trading/gaming center, is that there's always plenty to do.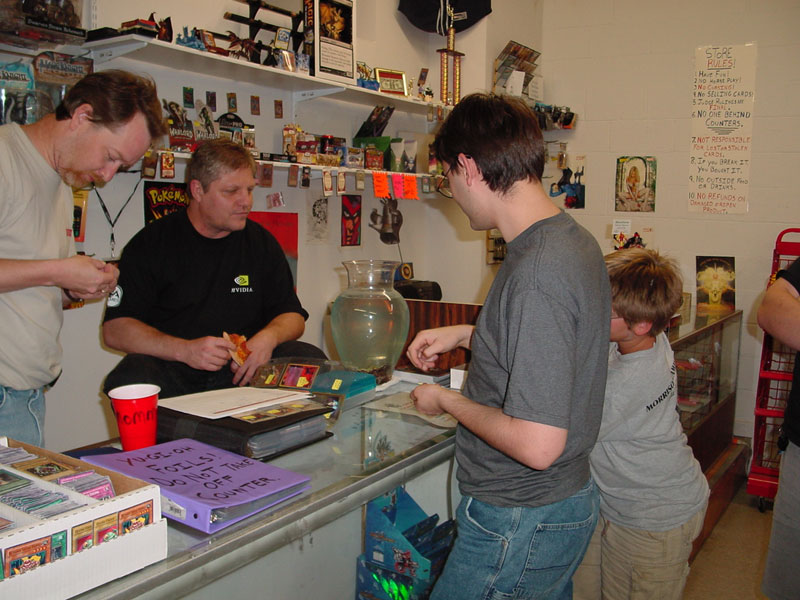 Here Calrathan unloads about a pound of change in an attempt to land a coin on the cup and win a prize. But first, Joe, the owner, grabbed a stool and a slice of pizza. It's going to be a while! Calrathan wasn't very lucky.
Real Paintball I didn't get any pictures of this. It's hard to take pictures of playing paintball when, well, you're busy playing paintball! We did get some photographs after the fact though - photos for textures and reference. The refs there were really helpful and let us take shots of various equipment. They even had a classic PGP!

Unfortunately it was so hot that day that everyone was pretty much drained before we even used up all of our paint. I think the heat was causing problems with the rental guns as well. Ahh well, what can you do. At least I didn't rip my knee open this year. I still have a scar from that, but it was worth it! Final Words I really wish more people would come to DPCon. It's not that we didn't have enough people to have a good time. We had an awesome time. I just wish more people could have an awesome time with us. I mean, really, if you enjoy paintball2, you'll be hard pressed to find an event more fun than DPCon! You'd better find a way to make it to DPCon 2006. Yes, I mean you! No excuses! I can't please everyone when it comes to location, so get a plane ticket if it's too far away!

Old DPCon2005 Page
DPCon 2005 Discussion Thread
DPCon 2.0 Page (2004) jitspoe